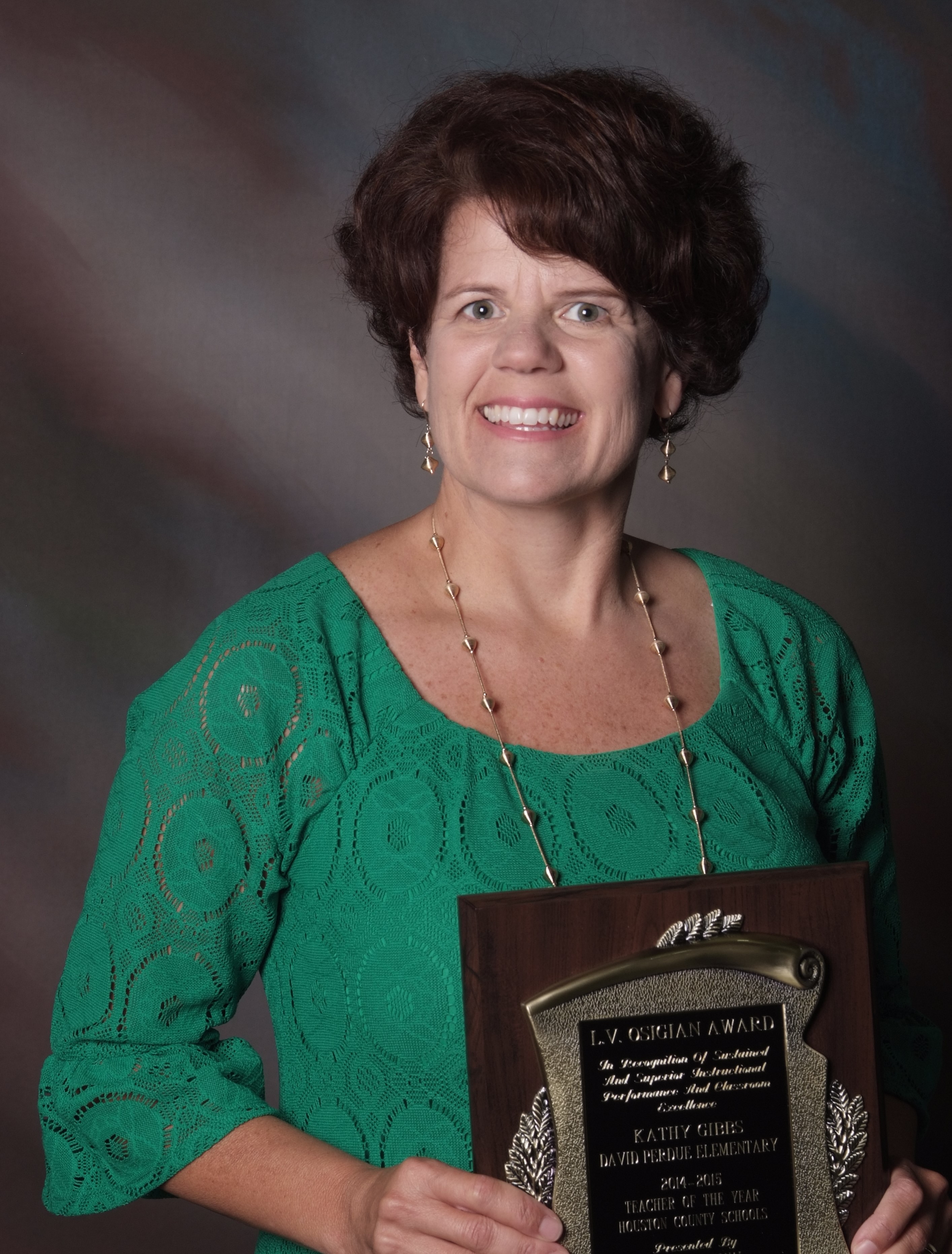 2014-2015 Top Four Finalists
Eagle Springs Elementary ~ Christina Voight
Hilltop Elementary ~ Kiley Bosworth
Pearl Stephens Elementary ~ Caroline Randall
Huntington Middle ~ Ashley Reynolds
2014-2015 Teachers of the Year

Bonaire Middle - Timothy Kerns

C.B. Watson Primary - Jennifer Martin
Centerville Elementary - Meredith Rhodes
David Perdue Elementary - Kathy Gibbs (HC Teacher of the Year)
David Perdue Primary - Heidi Hines (Top 10)
Eagle Springs Elementary - Christina Voight (Top 5)
Feagin Mill Middle - Matthew Hunt
Hilltop Elementary - Kiley Bosworth (Top 5)
Houston County Career Academy - Melissa Wood (Top 10)
Houston County Crossroads Center - LaTonya Warren
Houston County High - Katrina Fort
Huntington Middle - Ashley Reynolds (Top 5)
Kings Chapel Elementary - Melanie Murphy
Lake Joy Elementary - Dennis Peavy (Top 10)
Lake Joy Primary - Kaci Register
Langston Road - Deborah Johnson
Lindsey Elementary - Bernita Allen
Matt Arthur Elementary - Robin Rooks
Kathy Gibbs of David Perdue Elementary is the 2014-2015 Houston County Teacher of the Year.
Mrs. Gibbs began teaching in 1992. She taught Pre-k thru 6th grade in the states of Georgia, Florida, and Indiana. During her career she has served as a classroom teacher, Reading Recovery Teacher, Literacy Coordinator for Granville County Schools, Learning Resource Specialist for Osceola School District, and Instructional Coach for Whiteland School Corporation.
Mrs. Gibbs graduated from The University of Alabama with a Bachelor of Science degree in Early Childhood and Elementary Education. She attended North Carolina State University to receive training to become a Reading Recovery teacher. She earned a Masters of Reading Education from The University of West Georgia. She completed specialist degree in Educational Leadership from Valdosta State University.
Mrs. Gibbs was named the Assistant Principal of Instruction at Langston Road Elementary School.
Miller Elementary - Mori Goodroe-Harris

Morningside Elementary - Tabatha Wesley
Mossy Creek Middle - LaNell Waller
Northside Elementary - Cristina Betancourt
Northside High - Richard Frazier
Northside Middle - Leslie Williams
Parkwood Elementary - Elizabeth Lee
Pearl Stephens Elementary - Caroline Randall (Top 5)
Perry High - Tiffany Frank
Perry Middle - Jennifer Mashburn
Quail Run Elementary - Beverly Kile
Russell Elementary - Dana Brock
Shirley Hills Elementary - Jessica Ellerbee
Thomson Middle - Terra McMillan (Top 10)
Tucker Elementary - Susan Walker
Veterans High - Jeff Washington (Top 10)
Warner Robins High - Clara Burch
Warner Robins Middle - Edlena Dantes
Westside Elementary - Debra Cannon